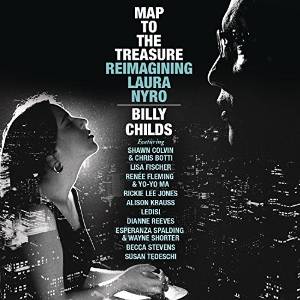 People in this society sometimes have the mistaken notion that everyone is talented and if they only worked hard could write a great song or orchestrate a great symphony or sing like an accomplished singer– if they only had a chance (quite a few TV shows have been quite successful with this premise)—but my long time on this planet has shown me this not to be the case—Excellence is scarce, in all art forms—so when it appears–—as in Billy Child's new re-imagining of Laura Nyro's songs "Map to the Treasure" it should be celebrated.
I've known Billy Childs for over 20 years (more as an appreciative listener and associate than as a friend), but I've long known of his "excellence" as a pianist and arranger and as an original—from almost the beginning. My relationship with Laura Nyro goes much farther back—over 40 years—and even though I never met her, I feel like she's family to me. I'm in that club, as Billy calls it, of people who love Laura and recognize her for a genius – there I've said it.  My definition of genius is someone who has all the tools of their craft—melody, original lyric writing and heartbreaking vocals and then goes "warp speed" beyond that into their own world. Laura has that in abundance- that's why I love her so much. Last year I had my own tribute CD to Laura—because I recognized her "excellence."
So it's amazing to hear a CD of these two "excellent talents" meeting, and in that meeting creating something beautiful and dark, mystical and smart—occupying a whole noir world of it's own. Billy's appreciation for Laura's music, picked up from his slightly older sisters always respects Laura while deconstructing her songs and amplifying their beauty. Laura would have loved this, because she loved to re imagine her songs too—for example she has at least three different versions of AND WHEN I DIE—in her performance history. So I urge you to purchase 'Map to the Treasure" turn the lights out, lay back and lose yourself in brilliance and Great Music.
Just yesterday, U2 released their latest CD on iTunes and it was free—enraging me with the further devaluation of "music" in our society. But, maybe this CD –in It's own sweet brilliance– will surely convince people music has worth and significance. I'd pay a hundred dollars to download Billy Child's take on Laura Nyro—and I think after listening to it, you would too.
Billy Child:  The making of "Map to the Treasure"
Mark Winkler:  "And When I Die" from "The Laura Nyro Project"