Dear Friends,
My new CD is out and guess what? I'm giving you something instead!!!!!
About two weeks ago I did a CD Release Party for "I'm With You: Mark Winkler sings Bobby Troup" at Feinstein's at Vitello's in Studio City, California. The sold out evening was a very special show. For one thing, I had the same band who did the record (minus just one!), some of Bobby Troup's Family were in the audience, and we had just done a show in San Diego for KSDS. We were rehearsed and ready to go! It was shot beautifully by Marc Salterelli, and I thought sending you the whole show would be neat!!! It was a lovely evening that I wanted to share with you.
Please don't post it on social media. This is just for you!
Click on the image below to see the video.
You'll need my password: Winkler

---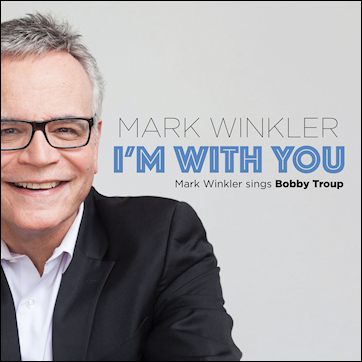 I would be very grateful if you would review my CD on Amazon.
Here's the link: AMAZON
And of course you can buy, download or stream the CD at all the usual places.

---
I've been getting the greatest reviews – Can I brag for a second?
"His best release to date"
C. Michael Bailey
"Winkler is an artist whose voice is a sparkler, whose lyric interpretations are balletic and swings tales heavy… superb all around"
Nicholas F.Mondello/ All About Jazz
"Irrisistable"
Joe Lange/ Jersey Jazz
"Just the right amount of implicit cool… a completely exquisite release"
Chris Spector/ Midwest Record
"I can tell you right now that Mark's tribute to Bobby Troup's work is the coolest and hippest I've ever listened to ( and believe me I've heard hundreds who've tried to do this)."
Dick Metcalf/ Contemporary Jazz Fusion
And here's a lovely review of the live show.
BWW Review: Mark Winkler Fills Feinstein's Upstairs at Vitello's With Joy
by Don Grigware Aug. 25, 2019
"Singer/songwriter Mark Winkler appeared at Feinstein's Upstairs at Vitello's Friday August 23 for a CD release party of his new album I'm With You Mark Winkler Sings Bobby Troup. Playing to a SRO house, Winkler wowed his audience by simply being his warm, personable, engaging self. He possesses a splendid vocal instrument that can cover a variety of styles, but, as shown here mostly jazz and pop. He does not push. The lush tones flow from him quite naturally. One might compare him to Jack Jones, Perry Como. He deserves without question to be among the greats.
Throughout the evening, he was backed by superior musicians Rich Eames at the keys, Grant Geissman on guitar, Gabe Davis on bass, Kevin Wingard on drums and Ann Patterson on flute/sax, the very same musicians who recorded the album with the exception of Wingard, who stepped in to this performance. Jon Mayer also accompanied at the piano for "It Happened Once Before" that he also arranged. He brought the house down with his incredible expertise.
I cannot give enough praise to the orchestra behind Winkler. They all brought us such tremendous joy together and in solo spots. And, it is clear to see the wonderful chemistry that Winkler has with them. Like outstanding ensemble acting there was great harmony and fantastic timing. Pure elegance!
Winkler is indeed a class act. His phrasing is impeccable, and as a fine singer, he focuses on the lyrics really making you listen and appreciate what he is singing. Don't miss him next time around! In the meantime, buy the new CD I'm With You ). It will have you exulting at Troup's and Winkler's laid back style and melodious sounds."